Requesting a Medical Canvass for your Claims – Value vs. Results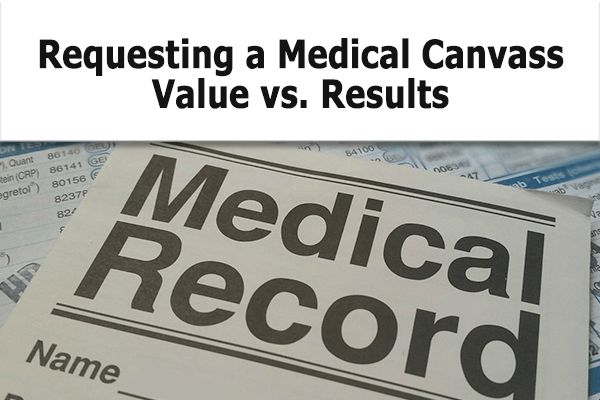 There have been multiple discussions, opinions and heated debates, about the value and impact a Medical Canvass has on claims. Obviously, results speak for themselves. You need viable result and information to make an informed decision on what the impact can be for a specific claim. If you are continually getting Medical Canvass reports back with no results found, then you are wasting money, time, and resources.
With more companies now offering medical canvass services; both large and small, you are going to see a range of results based on each company's methods, protocols, and tactics.  Don't fall prey to the companies that focus on the volume of reports, using simple and limited search methods. Ask or do your homework on what they offer and what type of information is returned.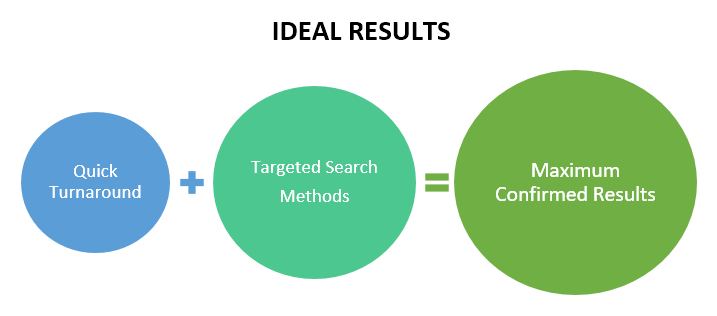 The main components in obtaining the ideal results is reviewing the details of each case, constructing a targeted search based on the subject's information, geographical location (current and past), the date of loss, the specific injury type, and don't forget what are they putting on open source media.  If this information is not properly analyzed, then it becomes more challenging, and the likelihood of obtaining confirmed results drop significantly.
Ask yourself these simple questions. 
How many times do I get "no results found" on my medical canvas?
Did the service provider search the right types of facilities?
Did the service provider search the right geographical location?
Why were there no results found? (most people have been treated for something)
Does my current service provider help make an impact on my files?
Does my service provider offer "guaranteed confirmed treatments or no charge"?
A quality Medical Canvass service provider should not make you have to constantly ask questions. Their primary goal should be to give you the highest possible number of confirmed results, identify the geographical locations where a subject has received treatment, searched the correct facilities, and returning those result in a timely fashion to you.  All of which provided to you at a competitive rate and with a guarantee to back up their work.
Why Choose GII-PII for your next Medical Canvass?
GII has been providing Medical Canvass Services for years and has maintained a 99.9% success rate in returning confirmed results for our clients.  We provide various levels of Medical Canvasses ranging from our Basic 20 Facility to our most advanced Platinum Plus 50+ Facility Package.  We have accumulated a national database of all medical facilities and service providers, allowing our Analysts to perform a geo-targeted area search that can pinpoint where a claimant may have received medical treatment(s).
What separates GII-PII from the competition? Our Medical Canvasses include an embedded social media search on the claimant as well.  Not only are we identifying and confirming your claimant's medical treatment history, but we take it a step further, and uncover valuable information through social media, that may lead to additional geographical locations, unknown hobbies, and yes, even information related to their current injury.
If you need to retrieve all identified medical records from the providers, our HIPAA certified specialists can do that too.  This option does require certain specified documentation. Our HIPAA certified specialists will establish a one point of contact chain of custody, retrieve all medical records from each provider through our HIPAA certified and secured/encrypted server, and create supplemental reports as those records return.  These records and reports will be sent through a secure encryption/HIPAA certified system to ensure chain of custody and confidentiality of the protected medical information.
Let us get you the results you need on your next claim. We have made it as easy, simple and convenient as possible, with our online case request form to submit your referrals.