The Power of Medical Canvassing – LinkedIn Group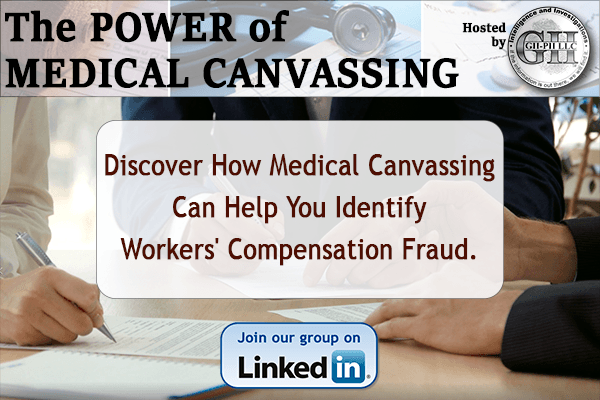 We are excited to announce the launch of our new LinkedIn Group: "The Power of Medical Canvassing".
ABOUT THIS GROUP
In practically every type of workplace, the presence of workers' compensation claims exist. Insurance companies, attorney's, law firms, and their clients are tasked to validate and resolve each claim, whether legitimate or not.
Each claim can impact the company's finances, regulations, and/or reputation. While maintaining stability for their employees with valid claims, it is equally important to maintain stability for the company against fraudulent claims.
The Power of Medical Canvassing Group was created to discuss the challenges, ideas, legalities, and application of conducting medical canvasses within the community. The goal of this discussion group is to advise and collaborate with like-minded professionals on the benefits and power of medical canvassing to prevent fraud. Additionally, you can read educational content about medical canvassing; what it is, when to use it, and how it can help your claims.
If you are a professional in the workers' compensation or liability insurance field and would like to learn more about medical canvassing, we encourage you to join our group.