Are you getting "no results found" from your Medical Canvasses?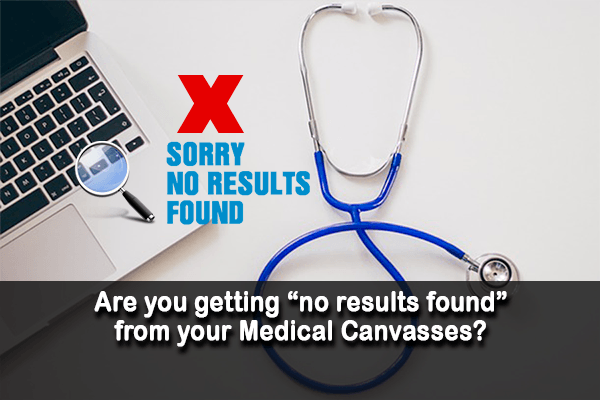 What is the average percentage of confirmed results you receive when you order a medical canvass from your service provider? Are you tired of getting "no results" back from your medical canvass orders?
The truth is, medical canvassing services are still new to many professionals in the industry. As medical canvassing gains popularity and value in the industry, it's still difficult to decide what professional company to use, and what results to expect.
There is just a hand full of "big-name companies" that offer medical canvassing in the US, and numerous "smaller companies and agencies" that have now entered the medical canvassing arena.   Choosing the wrong service provider can cost you money, time, and possibly pay for a claim that can be disputed or settled for thousands of dollars less, if a proper and appropriate medical canvass had been completed.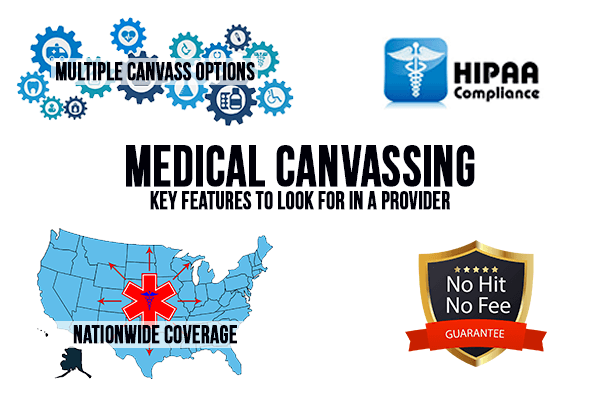 Key features that should be evaluated when choosing the right medical canvas provider:
The service provider should have multiple options available from the size of the medical canvas, all the way to types of facilities, and geographical locations of the canvass needed.
The service provider should be HIPAA Certified and Compliant, ensuring they are securely establishing a clear chain of custody, and are following all HIPAA guidelines and regulations to include the analyst conducting the canvas. Their server and e-mail provider should also be HIPPA Certified and Compliant.
The service provider may or may not offer the service to retrieve medical records for you when a signed authorization for release is provided. If so, you need to know, are they secured and compliant?
The service provider should have qualified and trained specialists able to efficiently communicate with all types of medical facilities, understanding the proper terminology, and departments to contact. Don't be afraid to ask this question about the provider's specialist.
Does the service provider offer a no hit no fee guarantee? Why not? We all have been treated by some sort of medical professional in our lifetime. The proper trained specialist knows where to look, and how to ensure treatment providers are located.
Is the service provider including a social media search of the claimant along with the medical canvass at no additional charge? This is a critical tool in helping to identify hobbies, activities, and personal events, along with photos and comments that may be related to the current injury.
The service provider should present an easy to read report of their findings, including complete facility information, who they spoke with, dates of service, and the results of their findings for each.
The service provider should offer a prompt completion time of the medical canvasses, typically within days not weeks. This is one of the largest complaints we see in the industry. Turnaround times are critical!
Does the final work product/report have a signed signature and HIPPA certification number? Why not?
When choosing a medical canvass service provider, do your homework first. Know a little more about the company you are choosing.
Remember, you want and need a trained specialist to complete your medical canvasses, not just a fill in or someone who is low on hours that needs something to do for the day. Proper medical canvassing, conducted by trained professionals, are proving to save thousands of dollars on claims, and are becoming a valued tool in the industry for mitigating claims.
As a former Director of a nationwide company, I have designed, developed, and researched every way possible, to ensure the best possible results will be obtained when conducting a medical canvas. Here are a few quick and simple questions you should have answered when choosing a medical canvassing service provider for you and your company. This will save you time, money, and potential headaches in the long run.
Questions you should ask:
What is the cost?
What types of medical canvasses do you offer?
What is the proper size and type of medical canvass I need for my claim?
Are the analyst(s)/specialist(s) HIPPA Compliant & Certified?
What is the turnaround time for this medical canvass?
Are the servers, e-mails, and communications HIPPA Compliant and/ or encrypted to ensure confidentially?
Additional Statistics:
Insurance fraud is rising, and mounting pressure from schemes has ignited a surge of insurer anti-fraud technology deployment:
More than 60% of insurers say fraud has climbed over the last three years.
Nearly 75% of insurers use automated systems to detect false claims — a large increase over the 2014 and 2012 studies.
Automobile premium evaders are growing targets of anti-fraud efforts.
Insurer use of rate-evasion technology has jumped 40% since 2012.
Use of predictive modeling and link analysis increased 21% in two years.